1,859 of 3,000 vouchers sold
In order for production of the Florida Blue Angels specialty plate to begin, 3,000 customers must commit to purchasing the plate once it goes into production. This is accomplished by pre‑sale of a voucher that indicates you promise to purchase the plate. Purchasing a voucher not only shows your support for the Naval Aviation Museum Foundation and the National Flight Academy, it also ensures the plate will go into production as quickly as possible.
The Escambia County Tax Collector, in partnership with the Naval Aviation Museum Foundation, is offering pre-deposits to collect all 3,000 commitments or more prior to the official release on October 1, 2020. Upon release, we will immediately process all deposits to expedite the start of production.
Help reach 3,000 to get the plate into production!
The Naval Aviation Museum Foundation is offering numbered Commemorative Challenge Coins to the first 3,000 Floridians who purchase a voucher from our website. The 1.5" antique bronze coin showcases the Blue Angels crest on the front and the words, "I Helped Make History" on the back. This exclusive coin is a way to thank those who helped make the Blue Angels license plate a reality for the State of Florida.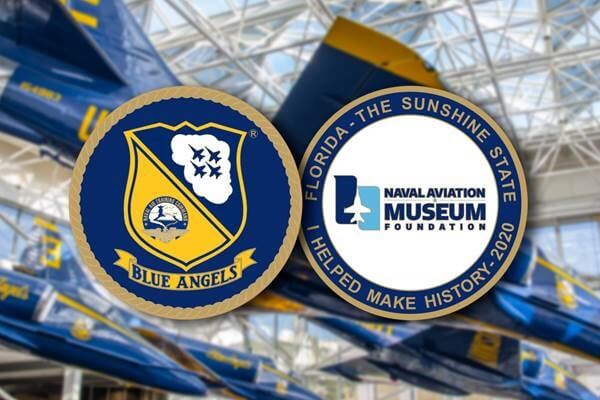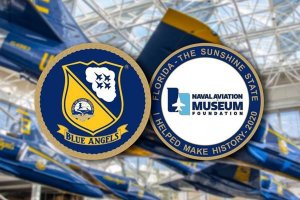 How it Works
Pre‑sale vouchers are allocated for a specific specialty plate. Pre-sale vouchers can be purchased for yourself or for any other Florida resident. They cannot be transferred or refunded once purchased; however, they may be used for a different specialty plate if desired.
What to Expect
Once your Blue Angels specialty plate deposit has been made, you will receive a receipt for payment by email. Within two business days, you will receive a second email from our office to secure additional details about your purchase and the intended recipient. Please reply to this email as soon as possible to avoid delayed processing.
Once the Blue Angels specialty plates arrive in our office, we will process them in the order the deposits were made, collect additional fees required, and arrange for pickup or mailing. Thank you for your support of the Naval Aviation Museum Foundation and the National Flight Academy.
NOTE: This page is for the purchase of a Blue Angels specialty plate voucher only. If you would like to purchase a gift certificate for any other specialty plate, please click here.