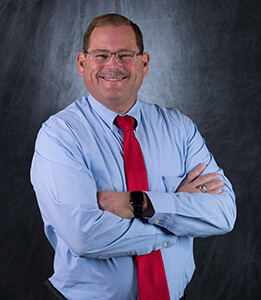 About the Tax Collector of Escambia County Office and Scott Lunsford
Scott Lunsford was elected Escambia County Tax Collector in November 2016 with the goal of running the tax collector's office as efficiently as possible while incorporating new technology to minimize wait times and promote world-class customer service.
A native Floridian, originally from Milton, Scott has been a resident of Escambia County for over 30 years. With over 29 years of public service, Scott cares deeply about the citizens of Escambia County and their interaction with the office.
As tax collector, Scott is responsible for the collection and distribution of a variety of taxes and fees. A constitutional officer and a fee officer with the office funded by the fees earned for services provided, the tax collector's office has a cash flow of $600 million. The office collects taxes for the District School Board, Board of County Commissioners, City of Pensacola, Town of Century, Sheriff, Downtown Improvement Board, Northwest Florida Water Management District, Department of Highway Safety and Motor Vehicles, Florida Fish and Wildlife Commission, Department of Revenue, Department of Health, and Department of Agriculture.
The tax collector's office issues driver licenses and identification cards, registrations and titles for vehicles and vessels, sells hunting and fishing licenses and business tax receipts, collects real estate and tangible personal property taxes, and issues Going Out of Business Permits. All offices also issue Florida birth certificates on a limited basis, and the Warrington and Molino offices accept concealed weapons license applications and process renewal licenses.
With an annual budget of $7 million, Scott Lunsford operates four offices with a staff of 104 full-time employees.
Personal
Born in 1959 in Milton, Florida
Married to Hope since 1979
One daughter, Christina
Resides in Escambia County
Education
Certified Public Manager (CPM)
Certified Florida Collector (CFC)
Certified Florida Collector Assistant
Criminal Justice Standards, Auxiliary Police Officer
Crestview Senior High School, Crestview, Florida
Experience
Began career in public service with Florida Highway Patrol as Duty Officer in Jacksonville (1988), transferring to Pensacola in 1989.
Division of Motor Vehicles as a License and Registration Inspector, advancing to Compliance Examiner and DHSMV Regional Administrator responsible for DHSMV field operations throughout the entire Florida panhandle.
Began career at the tax collector's office in 2001 as a Deputy Tax Collector and advanced professionally through promotions to Assistant Manager, Tax Manager, Senior Tax Manager, and Director of Driver License Services.
Began career with the Florida Highway Patrol Auxiliary in 1987 as auxiliary trooper, advancing to sergeant and captain through promotions.
Subject matter expert in motor vehicle title and registrations, driver license, and automobile identification. Participated in the recovery of over two million dollars' worth of vehicles.
Community Activities
Florida Tax Collector Association District 1 Director
Northwest Florida Tax Collector Coalition Liaison
Florida Tax Collector Association Steering Committee
Florida Tax Collectors Association Representative for DHSMV Automobile Dealers Industry Advisory Board
Florida Tax Collector Association Sergeant at Arms and Parliamentarian
Five Flags Amateur Radio Association
Board Member, Healing After Infant Loss
Pensacola Interstate Fair
VA Stand Down, assisting veterans with obtaining identification
Escambia Homeless Coalition, assisting the homeless with obtaining identification
Advisory Board International Order, Rainbow for Girls
Advisory Board DeMolay for Boys
West Pensacola Masonic Lodge No. 296 – Past Master and Secretary
Order of the Eastern Star Florida Chapter No. 9
Hadji Shrine
Florida Highway Patrol Auxiliary – over ten thousand hours served – Retired
Professional Recognition
Davis Productivity Award
Department of Highway Safety GEM Awards
Florida Highway Patrol Auxiliary, Meritorious Service Awards
Modern Woodman of America, recognition for community service
American Association of Motor Vehicles
Congressional Recognition – Congressman Jeff Miller
Grand Cross of Color – Rainbow for Girls
Legion of Honor – DeMolay
United States Probation Office – Going Beyond Award
Career Innovations
As Tax Collector 
The first tax collector in the state to offer the online purchase of specialty plates.
Worked closely and successfully with the Florida Tax Collector Association on legislation to move the renewal of heavy trucks (5,000 lbs to 7,999 lbs) to the owner's birth month, as on other registrations.
Coordinated with the State's mobile licensing unit to visit the town of Century regularly to assist citizens in the northernmost part of Escambia County
Expanded concealed weapon license services to Molino office
Made Florida birth certificates available at all offices
Made vehicle and vessel registrations available for same-day pick up
Offered property tax installment applications online
Offered online business tax receipt applications and updates to business tax receipt accounts
Installed self-service kiosks at some locations for quicker on-site service
Improved services by updating tax bills, re-organizing office structure, call center, and queuing system
Increased office participation in community events including:

naturalization ceremonies, offering services and guidance to our new citizens
educating the public through staffing a booth at the Pensacola Interstate Fair
participating in the court-sponsored Driver License Clinics to assist citizens in clearing their licenses
As Tax Collector Senior Management
Lead role in the merger of driver license and ID card services from the State to the Escambia Tax Collector Warrington office
Introduced express service to the Warrington office
Lead role in the design of the Marcus Pointe office expansion, which allowed processing of 40,000 driver license and identification card transactions per year
Lead role in the design and implementation of an online appointment system
Lead role in creating a community awareness program for GetRealID.com. Created public information programs to assist customers with complying with the new Florida law
Partnered with the Veterans Administration and Homeless Coalitions to assist homeless veterans and citizens with obtaining identification
Partnered with the Department of Health to issue Florida birth certificates at tax collector locations
Partnered with the Department of Agriculture to begin the process of accepting concealed weapon applications
As DHSMV Regional Administrator
Led the merging of the first Motor Vehicle and Driver License office, streamlining them into a one-stop concept, which was later adopted by the majority of tax collector offices throughout Florida.
Automated dealer license applications by installing computers in the Pensacola DMV office, saving tax dollars and expediting yearly renewals for nearly 300 licensees.
Automated consumer complaint intake and processing by installing personally-donated computers and software in the Pensacola DMV office.
Created an online tracking system for DMV offices to track customer interactions.
Introduced fast title service to Pensacola & Panama City DMV offices.
DMV Compliance Examiner
Wrote and implemented a new procedure for inspection of homemade and rebuilt vehicles with a focus on faster inspections while preventing fraud.
Facilitated training and assisted with developing mobile home enforcement programs in tax collector offices to recover lost revenue from expired mobile home registrations.
Created and facilitated statewide motor vehicle fraud training for tax collector and DMV staff.
Created meaningful content for motor vehicle dealer license training. Used educational initiatives to reduce consumer complaints against licensees.
Community Involvement
Scott personally supports many charities. Others are supported by participation in the tax collectors' charitable outreach drives, including: