In an effort to reach out to citizens where they live, work and play, Escambia County Tax Collector Scott Lunsford is pleased to announce an outreach event during the Pensacola Interstate Fair.
"This is an opportunity for residents to find out more about what we do and the services we provide," Lunsford said.
Fair visitors will be able to meet with staff members to discuss local and state services offered by the tax collector's office, such as business and property taxes, driver licenses, vehicle registrations, concealed weapons licenses and birth records. Staff will be accepting applications for property tax installment payments as well.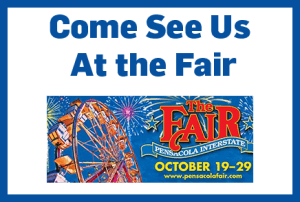 Staff also will have employment applications available for our upcoming Agent Trainee recruitment. If you are interested in working in a fast-paced, multi-faceted and challenging environment, stop by and ask about the qualifications.
"We look forward to this new opportunity to serve our citizens and share our services with them," Lunsford said.
Staff will be on hand from 4 p.m. to 9 p.m. Monday through Friday and 11 a.m. to 9 p.m. Saturday and Sunday during the fair.